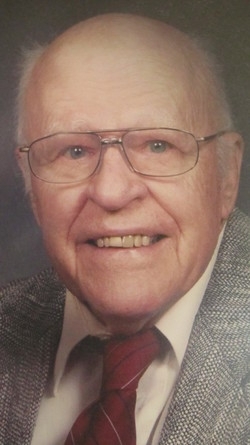 Eugene James Guy, 93, of California, MD, passed away on April 1, 2016 at the home of his granddaughter Audrey Maxwell of Lusby, MD. Born December 16, 1922 In Rochester, MN, he was the son of the late Raymond Howard Guy and Elizabeth Harriet Betlach.

Eugene graduated from Rochester High School, Rochester, MN on June 6, 1940. On February 2, 1943 he was inducted into the U.S. Army and was given an honorable discharge on November 15, 1945, after serving in combat operations in Italy.

On May 22, 1948 he married his wife of 65 years, Violet Orrie Guy, who passed away on July 22, 2013, at St. Lawrence Catholic Church in Minneapolis, MN. They had two children, Jeffrey Jon and Julie Elizabeth.

On March 19, 1953 he received his Master of Science Degree in BIO-Chemistry from the University of Minnesota. On July 11, 1955 he received his P.H.D in Bio-Chemistry from the University of Minnesota. In June 1964 he became a research chemist for the U.S. Department of Agriculture (USDA) in Washington D.C. He retired from USDA in October 1985.

Eugene was a loving and devoted son, brother, father, grandfather, great grandfather, and great-great grandfather. Eugene is survived by his sister, Corinne MaCallister, of Neenah, WI, children, Jeffrey Jon Guy of Lehigh Acres, FL and Julie Elizabeth Thur of California, MD, eight grand children, twenty two great grand, and one great-great grandchild.

A Graveside Service will be held at St John's Cemetery, Hollywood at 10:00 AM on April 6, 2016. In Lieu of flowers, memorial contributions may be made to the Calvert Hospice, P.O Box 838, Prince Frederick, MD 20678. Arrangements by the Brinsfield Funeral Home, P.A, Leonardtown, MD.