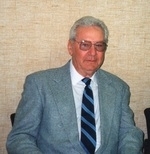 Charles Irving Tucker Jr., 83, of Avenue, MD passed away on March 31, 2016 at his home. Born on July 27, 1932 he was the son of the late Margaret Tucker and Charles Tucker, Sr. Charles was the loving husband of Mary O. Tucker whom he married on June 29, 1957 in Avenue, MD.

Charles is survived by his daughter Pam Joy (Bubby) of Hollywood, MD, 2 grandchildren; Chad Joy (Louise) and Jackie Ellis (Tyler), 3 great grandchildren; Ryan Joy, Gavin Joy, and Isabella Joy. Siblings; Roy Tucker (Phyllis) of FL, Darlene Guyther (Robin) of Leonardtown, MD, Alan Tucker (Cindy) of SC, and brother in law Mike Rogers of FL. He was preceded in death by his sister Phyllis Rodgers.

He was a lifelong St. Mary's County, MD resident and served in the United States Air Force for 4 years from January, 1953 to December, 1956. Jr. worked as an Engineer for Southern Maryland Electric Company (SMECO) , for over 40 years. He also worked for the Great Mills Trading Post for over 10 years. He was a member of the American Legion #221 in Avenue, MD, and Masonic Lodge Hollywood, MD.

Arrangements provided by Mattingley-Gardiner Funeral Home. All services will be private.