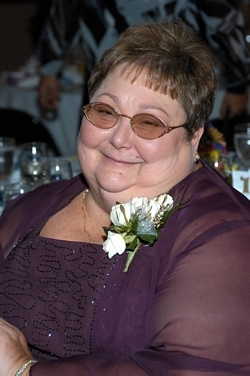 Frances Ann Chaney, 63, of Huntingtown, MD passed away peacefully on March 29, 2016 at the Burnett Calvert Hospice House, Prince Frederick, MD. She was born July 2, 1952 in Napa, CA to Vernon Edward and Doris Julia (Munyon) Sewell.

Her family moved to Calvert County when she was very young when her father transferred to Andrews Air Force Base. She attended St. Mary's of Assumption in Upper Marlboro, MD and was a 1970 graduate of Calvert High School.

She went on to marry John Michael Chaney on November 7, 1970 at St. Anthony's Catholic Church in North Beach, MD. They made their home in Owings, eventually moving to Huntingtown in 1983.

Frances was employed as an accountant with Pepco in Washington, DC for over 28 years. She was a member of St. John Vianney Catholic Church where she taught Sunday School for several years. She was Team Captain of the "Angels of Hope" Relay for Life team for 4 years raising thousands of dollars in support of the American Cancer Society.

Frances enjoyed working in her yard and garden as well as cooking and canning. She won numerous ribbons at the Calvert County Fair for her canning entries, most notably winning 15 blue ribbons in one summer. Frances also had an award winning recipe published in the Ball Canning Cookbook.

Frances was preceded in death by her parents, Vernon E and Doris M. Sewell as well as her oldest sister, Jeanette G. "Jeanie" Quesenberry. She is survived by her husband of 45 years, John Michael "Mike" Chaney; daughter Theresa A. Lusby and her husband Chris of Prince Frederick; grandchildren, Nathan and Addison Lusby, her brother Edward "Eddie" Sewell and his wife Patty of Owings and her sister Donna Ludlow and her husband Bruce of Owings as well as a host of nieces and nephews.

Arrangements provided by Rausch Funeral Home.