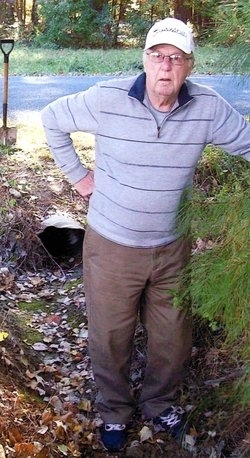 Charles Fairell "Charlie" Saine, 80, of Tall Timbers, Maryland passed away peacefully on March 27, 2016 at the Hospice House of St. Mary's County.

Charlie was born August 6, 1935 in Gastonia, NC to Farrell Wood Sain and Gladys Smith Sain both of Gastonia, NC. The name changed in WWII to Saine. He received an honorable Discharge from the National Guard of District of Columbia in March 1954. He was a marksman and sharpshooter. He proudly earned his GED in 1957 while in the Army and was honorably discharged in 1962. After the Army, Charlie was a Bakery Salesman for Continental Bakery and Wonder Bread. He was a member of Bakery & Sales Drivers' Local Union #33. In later years, he was a builder of several homes in St. Mary's and Calvert Counties.

Charlie was an avid reader; authors he loved: Lee Child, Vince Flynn, Nelson DeMille, Ed McBain, and Michael Connelly. He also loved mystery and historical books. He loved to watch Bill O'Reilly and Fox News. Of course, he watched the other side to keep a balanced perspective of the news. He enjoyed the Washington Times with his coffee and donut every morning. He also loved reading The Wall Street Journal. He was challenged Sudoku, the harder, the better.

Charlie loved to Golf on Monday mornings at Chesapeake Hills Golf Course when the weather was good. He was always looking for that prefect game. He was a die-hard Redskins fan for many years and enjoyed attending the game in his younger days. He loved NASCAR and avidly follows Joe Gibson Racing. In his retirement, Charlie made a point to do one thing every day to feel like he accomplished something.

Charlie is survived by Patricia Frank, loyal and devoted friend for twenty years; son, Chuck Saine and wife, Kelly Saine, of MD; daughter, Sue and husband, Chuck Tucker, of PA; grandsons, Drew Saine, of PA and Scott Saine, of MD; sister, Millie and Husband, Scott Markwood, of VA; ex-wife, Joyce Saine, of FL; cousins, Julia Ann Jensen, of VA, Bobby Wine, of NC, and Johnny Wine, of SC; nephews, Jim Markwood, of MD and Steve Markwood, of VA. Charlie was predeceased by his dad, Fairell Wood Saine (1954), his mother, Gladys Smith Saine (1938), and sister, Barbara Ann Holstein (1964).

Family will receive friends for Charlie's Life Celebration on Tuesday, April 5, 2016 from 5:00 to 8:00 PM with prayers at 7:00 p.m. at Brinsfield Funeral Home, 22955 Hollywood Road, Leonardtown, MD 20690. Interment will be at a later date at Maryland Veterans Cemetery in Cheltenham, MD. In memory of Charlie, memorial contributions may be made to Hospice of St. Mary's, P.O. Box 625, Leonardtown, MD 20650 and Second District Fire and Rescue Squad, Post Office Box 1, Valley Lee, MD. Arrangements by Brinsfield Funeral Home, P.A., Leonardtown, MD.