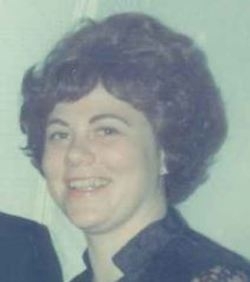 Jean Hottle Dayton died peacefully in the care of St. Mary's Hospice House on March 29, 2016 in Callaway, Maryland at the age of 72 of pancreatic cancer.

Jean is survived by her sons, Mark Alan Dayton (Misti) of Lexington Park, MD and Kenneth Jay Dayton of Great Mills, MD; her daughter in law Sheri Dayton of Mechanicsville, MD; her cousin Linda Long of Columbia, SC; her grandchildren Crystal, Stephanie, Kevin, Patrick and Erica and two-great grandchildren Samantha and Noah; her niece Anna Maria Murphy; and nephew James Michael Hottle. In addition, she leaves behind many lifelong friends and acquaintances. She is preceded in death by her parents and her husband, James LeRoy Dayton; and her son, James Michael Dayton, daughter, Kathrine Dayton Halm and brother Michael David Hottle.

Jean was born on April 23, 1943 in La Plata, MD to Margaret Jean (Brown) Hottle and James Edward Hottle. She was raised and attended school in Indian Head, MD and graduated from Lackey High School in 1961. After graduating from Lackey High School, Jean attended the Washington School for Secretaries preparing her for a 30 year career with the Federal Government as a technical writer at the Naval Ordnance Station at Indian Head, MD.

Jean married James L. Dayton in 1967 in Indian Head, MD and together raised their three sons.

She was warm and generous and had a wonderful sense of humor. She loved to travel and visit with friends. Though she had many interests and hobbies, she enjoyed stained-glass art and was a talented stained-glass artist.

A memorial service is scheduled for April 10, 2016 from 2:00 PM to 5:00 PM at Brinsfield-Echols Funeral Home in Charlotte Hall, MD, with a private interment at Cheltenham Veterans Cemetery at a later date. All are welcome to attend and celebrate Jean's life. In lieu of flowers, please send donations to the St. Mary's Hospice House, P.O. Box 625, Leonardtown, MD 20650. The family would like to thank Dr. Al-Banna for his efforts and loving care. Arrangements provided by Brinsfield-Echols Funeral Home.