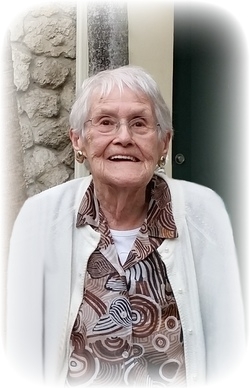 Sylvia Horsfall Gibson, 81, of Bushwood, Maryland passed away peacefully on March 26, 2016 surrounded by her family. Mrs. Gibson was born February 27, 1935 in Salem, Massachusetts to Walter and Alys (Caldwell) Horsfall. She attended Pinkerton Academy and went on to study at Westbrook Junior College.

She moved to Washington, DC in 1956 to work at the U.S. Department of State Office of Budget and Finance. While working in Washington, DC she met her best friend Thelma Boteler. Thelma introduced Sylvia to her brother James. On October 29, 1966 James and Sylvia were married in Hillcrest Heights, MD. Shortly after this they built a new home and moved to Bushwood, MD.

Sylvia began working as the school secretary at Dynard Elementary School in September 1967. She worked for one year and then left her position to stay at home and raise her family. Once her children were older she went back to work, serving as a substitute teacher and then later as a cafeteria manager at Bethune Elementary School and Benjamin Banneker Elementary School. She retired in 1994.

Sylvia was a member of First Saints Community Church (formerly St. Paul's United Methodist Church) for 47 years. Over the years she sang in the choir, served on the altar guild, taught crafts at Vacation Bible School, and was an active member of the United Methodist Women. In recent years she attended a weekly bible study and participated in the Young at Heart group. The church was an important part of Sylvia's life and where she had many life-long friends.

Sylvia was an avid reader, an infamous collector of baskets, and a big fan of sports, particularly the Washington Redskins. For many years she bowled on the Thursday morning league. Sylvia was also a well-known crafter, belonging to the St. Mary's County Craft Guild for over 25 years. Her specialties were counted cross stitch, needlepoint, and knitting. Sylvia was a member of the Seventh District Rescue Squad Auxiliary, the Friends of the Library, and the National Association of Retired Federal Employees.

Sylvia is survived by her daughters Mary Hayden and husband Phil Hayden of Avenue, MD and Ruth Morris and husband Jimmy Morris of Abell, MD; grandson Philip Hayden; granddaughters Grace Morris, Anna Morris, and Sarah Morris; and sister Janet Bettez. Sylvia was predeceased by her husband the late James Anthony Gibson.

Pallbearers will be her nephews Robert Bettez, Jonathan Bettez, Andrew Bettez, Walter Bettez, Steve Krucelyak, and Pat Wood. Family will receive friends for Sylvia's Life Celebration on Thursday, March 31, 2016 from 5:00 to 8:00 p.m. at First Saints Community Church, 25550 Point Lookout Rd, Leonardtown, MD 20650. A Funeral Service will be held on Friday, April 1, 2016 at 11:00 a.m. at First Saints Community Church. Interment will follow in the church cemetery.

In memory of Sylvia, memorial contributions may be made to First Saints Community Church, St. Paul's Campus, P.O. Box 95, Leonardtown, MD 20650 or to the Seventh District Rescue Squad, P.O. Box 7, Avenue, MD 20609. Arrangements by the Brinsfield Funeral Home, P.A., Leonardtown, MD.