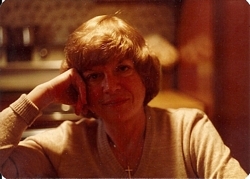 Margaret "Peggy" Anne Brabec, 83, of Drayden, MD passed away on March 22, 2016 at home surrounded by her loving family. Born February 19, 1933 in Exmore, VA she was the daughter of the late Alberta Mae and William Riley Shipp, Sr.

Peggy was the loving wife of Larry Milo Brabec, whom she married on February 8, 1963 in Virginia Beach, VA.

She is survived by her children; Pamela Gail Zimpfer of Franklin, VA, Cathy (David) Stevens of Milton, FL and Lisa (Jim) Sydnor of Leonardtown, MD, sister; Linda Rathbun of Michigan, Finale Nichols of Minnesota, 3 grandchildren, Scott (Niki) Blair of Virginia Beach, VA, Brian (Amanda) Blair of Virginia Beach, VA and Rebecca Stevens of Milton, FL and 6 great-grandchildren; Callista, Chloe, Avery, Aidan, Michael and Levi. In addition to her parents Peggy was preceded in death by her siblings; Dorothy Hamstead, Mary Brake and William R. Shipp, Jr.

Peggy moved to St. Mary's county in 1971 coming from California. Peggy was a devoted wife and mother. She always put her husband and children before herself. Whenever we came home she had all our favorite dishes cooked and she made every day special. Larry served our country and she served as well by taking care of the household during deployments.

Peggy had an amazing sense of humor and usually one-upped us. Every family gathering was filled with laughter and love. She was a woman of great faith and inspired that faith in her children and grandchildren. We all know we were in her prayers every day. Peggy loved the outdoors, she loved to fish and crab and be on the water. She cared deeply for all living things, and "pets" were family. Our loss is Heaven's gain. Thank you Mama for everything.

Pallbearers will be: Scott Blair, Brian Blair, Jim Sydnor and Michael Blair. All services are private. Arrangements provided by Mattingley-Gardiner Funeral Home.