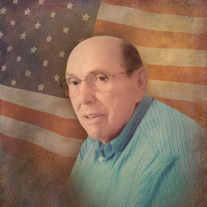 Barney Beasley Midgett Jr., 83, of Waldorf, MD died March 14, 2016 at the Charlotte Hall Veterans Home.

Barney was a Retired Technical Sgt. with the United States Air Force, having served from 1951 to 1971 and a Retired Police Officer with the United States Capital Police on the Senate side for 20 years. He was also a NASCAR fan, especially #24. He was a volunteer worker with the Andrew Air Force Base Satellite Pharmacy and a former member of the Charles County Mall Walkers.

He was the son of Barney B. Midtett Sr. and Levetta Bell Haywood Midgett. He is also predeceased by his wife, Betty Jean Midgett, his son, Barney B. Midgett III; and his sister, Hazel Ballance. He is survived by his children, Michael T. Midgett, Steven S. Midgett and wife Regina, Richard R. Midgett and wife Theresa, Jock P. Midgett, Kimberly Kelley and husband Kevin, and Gwenn Major and husband Bruce. He is also survived by 20 grandchildren and 21 great grandchildren.

Friends received on Thursday, March 24, 2016 from 5-8PM and where Funeral Service will be held on Friday, March 25, 2016 at 12:30PM at Raymond Funeral Service Chapel, 5635 Washington Avenue, La Plata, MD 20646. Interment to follow at MD Veterans Cemetery in Cheltenham, MD at 1:45PM with United States Air Force Honors. Memorial contributions may be sent to Hospice of St. Mary's County, PO Box 625, Leonardtown, MD 20650. Arrangements provided by Raymond Funeral Service.