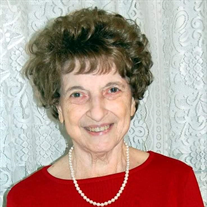 Liberty Rizzo, 92, of Pomfret, MD died March 13, 2016 at University of Maryland Charles Regional Medical Center, La Plata, MD. She was born on January 10, 1924 in Rochester, NY to the late Thomas and Carmella Ribis.

She was an incredibly loving wife, mother, grandmother and friend; her family was the most important part of her life. She had a gentle spirit and would do anything for anyone. She was known for sending handwritten greeting cards and giving away the homemade cookies and treats that she loved to bake. She loved to care for babies. She loved the Lord with her heart, mind, body and soul.

In addition to her parents she was preceded in death by her husband Joshua Charles Rizzo and ten siblings. She is survived by one son Mark Rizzo (Virginia); three daughters, Debbie Ronning (Jim), Janice Turner (Michael) and Elaine Rizzo (Ronnie); six grandchildren; Jay (Catherine) and Erik Ronning, Shannon and Michelle Turner, Megan (Scotty) Madden and Joshua Rizzo and Six great grandchildren, Mykayla and Lillyan Wabnig and Caleb, Ayden, Alayna and Sophia Rizzo Madden.

Visitation will be on Monday, March 21, 2016 at New Life Wesleyan Chapel, 9690 Shepherds Creek Place, La Plata, MD 20646 form 2:00–4:00PM and from 6:00PM until time of service at 7:00PM. A private interment will be at a later date a Washington National Cemetery in Suitland, MD. In lieu of flowers donations are requested to Clinton Christian Assembly of God, 10506 Thrift Road, Clinton, MD 20735. Arrangements provided by Raymond Funeral Service.