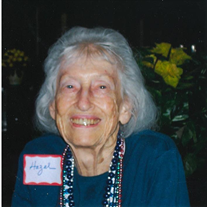 Hazel Neave of Waldorf, Maryland passed away peacefully on Friday, March 11, 2016 at the Genesis Healthcare Center in Waldorf. She was 87 years old. Born on November 23, 1928 in Hughesville, MD she was the daughter of the late Mary I. H. Thornburg Neave and the late Richard Ernest Neave.

Being raised in Hughesville, Miss Neave graduated from Hughesville High School as well as the Westtown Friends (Quaker) School in Westtown, PA. She then attended Wilmington (Quaker) College and received her B.S. degree in Education. She later earned her Master's Degree in Education from Amherst College in Massachusetts.

Miss Neave worked as Extension Agent for the Maryland Extension Service in St. Mary's County. She served in the Peace Corps, traveling the world, and also worked for the University of the District of Columbia. She was an excellent seamstress who taught classes, and enjoyed making her own clothes. She also enjoyed photography, art, cooking and teaching her faith. Miss Neave was a long time and very active servant of the Baha'i Faith.

In addition to her parents, Miss Neave was preceded in death by her two sisters Evangeline Neave Corbitt and Mary Ann Neave. She is survived by her brothers Allen Jay Neave, Robert Ernest Neave and his wife Sandie; also survived by numerous nieces, nephews, other relatives and friends.

Service and interment will be private. No flowers, please! In lieu of flowers, memorial contributions in Hazel's name may be made to those who took wonderful care of her for two years: Genesis Healthcare, 4140 Old Washington Road, Waldorf, MD 20602.