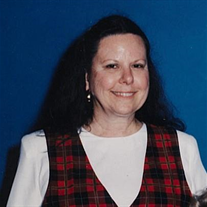 Patricia Ann Hintze, 75 of La Plata, Maryland passed away on Friday, March 11, 2016 at INOVA Fairfax Hospital, Virginia. Ann was born March 9, 1941 at Providence Hospital, Washington, DC, daughter of the late Andrew P. Williams Sr. and Mary Estelle (Williams) Canter.

She lived in Charles County her whole life. She attended Hughesville Elementary School and La Plata High School where she graduated in 1959. She was Duchess of her class and Miss Fire Prevention 1959 for the Waldorf Fire Department.

Ann was a bookkeeper for a short time and a dental hygienist before joining her husband in helping to build enterprises such as laundromats, car wash, Irish Pub, and other rental properties. She and Adolf were married for 52 years and she did the bookkeeping for their businesses until the time of her death.

Some of Ann's favorite things were flowers, cats, jokes, and her red Jeep. She always enjoyed music, friendly conversation, and showing her concern for the environment. She took pride in being a member of "Friends of the Smithsonian." Along with bookkeeping, she assisted in the care of her 96 year old mother. Her most treasured pastime was enjoying the company of a stray cat and telling everyone about him.

Survived by her husband, Adolf L. Hintze; her mother, Mary E. (Williams) Canter; her sisters, Dorothy Vernon and Theresa Norris (Randy); her niece, Susan Howell (Thomas); her nephews, J. C. Leavy (Anna) and Josh Leavy (Marlene); her great nieces, Brittany Klock (Steve), Melanie Melvin (Andrew), Camryn Leavy, and Skye Leavy; her great nephew, Jarrett Leavy; and her great great nephew, Brayden Klock. She is predeceased by her father, Andrew P. Williams, Sr. and brothers, Andrew P. Williams, Jr. and Joseph L. Williams.

Friends received on Thursday, March 17, 2016 from 2-4PM and 6-8PM with prayers at 7PM with a Funeral Service on Friday, March 18, 2016 at 11AM at Raymond Funeral Service Chapel, 5635 Washington Avenue, La Plata, MD 20646. Burial to follow at Trinity Memorial Gardens in Waldorf, MD. Pallbearers: J. C. Leavy, Josh Leavy, Jarrett Leavy, Randy Norris, Allyson Krenke, and Jimmy Willett. Honorary pallbearer: Bobby Stasch. In lieu of flowers, donations can be made to the American Heart Association or the Charles County Humane Society. Arrangements provided by Raymond Funeral Home.