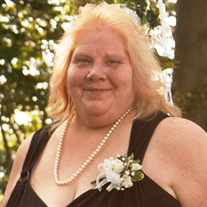 Michelle Marie Lomax of Cobb Island, Maryland died on March 9, 2016 at George Washington University Hospital in Washington, DC. She was 55 years old. She was born on July 23, 1960 in Clinton, Maryland to Mary Catherine Conner Howard and the late Joseph Viering.

Michelle was a school bus driver who drove Bus 71 for Charles County students for over 29 years. She loved each and every child that rode her bus like they were her own. She was a member of the Ladies Auxiliary in the Cobb Island Volunteer Fire Department and Rescue Squad.

She was preceded in death by her sister Catherine E. Lewis and her Uncle Edward J. Conner Jr. She is survived by her parents James "Sonny" and Mary Kaye Howard; her brothers Patrick Viering and James "Jay" Howard; her daughters Brittenny and husband Scott Grieashamer, Jennifer and husband David Bowling and Karin Lomax; her grandchildren Aubrey Michelle Grieashamer, Michael Bowling, Nathan Bowling, and Dominic Bowling; her niece Donna Mae Viering and nephew Mark Cole.

A visitation will be held on Friday, March 18, 2016 from 2PM to 4PM and from 6PM to 8 PM at the Raymond Funeral Service, P.A. 5635 Washington Avenue La Plata, MD 20646. A Mass will be offered on Saturday, March 19, 2016 at Holy Ghost Catholic Church, Rock Point Road Issue, MD beginning at 12PM. Interment to follow in the church cemetery. Memorial contributions may be made to the Cobb Island and Newburg Volunteer Fire Department and Rescue Squad, P. O. Box 156, Cobb Island, Maryland 20625. Arrangements provided by Raymond Funeral Service.