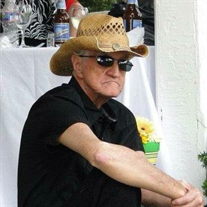 Louis Calvin Willett, 79 of Nanjemoy, MD died March 9, 2016 at his residence.

Louis was a long-time self-employed farmer and employed with the National Capital Park Service for 30 plus years. He was a veteran of the United States Navy. He loved working and showing off his tractors. He was always helping others on their farms and with their equipment. He especially liked spending time with his grandchildren.

He was the son of Walber Willett and Mildred Allen Willett. He is also predeceased by his sons, Mark and Danny Willett; his brothers, James, Charles, and Walter Willett; and his sisters, Mildred, Catherine, and Margaret. He is survived by his former wife, Cynthia Bartolomeo; his daughters, Melissa Dela Cruz, Amanda Schafer, Louisa Hood, and Terri Willett; and his grandchildren, Haley, Raelynn, Kellen, Presley, Kendall, and Mitchell.

Memorial Service for Louis will be held at his farm in Nanjemoy, MD on Saturday, March 19, 2016 at 1PM. Arrangements by Raymond Funeral Service. In lieu of flowers, bring extra batteries and a can of ether to help us start his tractors.