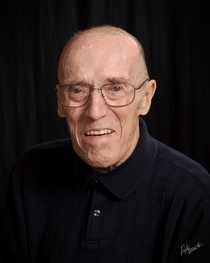 Harvey Edward Radtke was born on January 21, 1931 in Bladensburg, MD to Edward Albert Radtke and Anna Elizabeth Webb. He graduated from Mt. Rainer High School in 1948. He met Betsy Ann Gilchrist during their senior year and they were married on July 29, 1950. They celebrated their 65th wedding anniversary last summer. They built a house in Pomfret, MD and moved their family of three daughters to Charles County in August 1966. Harvey was a computer specialist for the federal government at Bolling AFB and Andrews AFB.

Harvey loved to go duckpin bowling; he played and coached men's softball; played golf and enjoyed watching the Washington Redskins, as he was a lifelong fan. His greatest pleasures were attending his grandchildren's sports events and spending time with his family. He was an active member of La Plata United Methodist Church.

Harvey was predeceased by his parents, his sister, Carole Anne Henley and his step-mother, Marian J. Radtke. He is survived by his wife, Betsy Ann Radtke; three daughters, Phyllis E. Coombs, Diane L. Major and Julie A. Robbins; three sons-in-law that were like sons, Timmy Coombs, Donnie Major and Kevin Robbins; grandchildren, Shannon Coombs Needham, Chad Coombs (Lisa), Brandon Coombs (Tia), Danny Major (Ashley), Kelly Major Bledsoe (Nate), Alyssa Robbins Wheeler (John), Aaron Robbins; and 14 great-grandchildren.

The family will receive friends on Sunday, March 20, 2016 from 2:00 to 4:00 PM and from 6:00 to 8:00 PM at the La Plata United Methodist Church (3 Port Tobacco Rd., La Plata, MD), where a Funeral Service will also be held on Monday, March 21, 2016 at 10:00 AM; Interment to follow at the Dentsville Methodist Cemetery. In lieu of flowers, donations can be made to the La Plata United Methodist Church Building Fund, P.O. Box 2824, La Plata, MD 20646. Arrangements provided by Arehart-Echols Funeral Home.