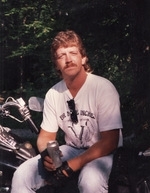 Steven Keith Benfield, 49, of Mechanicsville, MD passed away on March 13, 2016 in Washington, DC. Born on September 7, 1966 he was the son of Joanne Benfield of Mechanicsville, MD and Randle Benfield (Jackie) of Mechanicsville, MD.

Steven is survived by his children; Savanna Benfield, and Jackson Benfield both of Mechanicsville, MD, sibling Patty Goldsmith (John) of Mechanicsville, MD, Pam Gerek (Jeff) of St. Mary's City, MD. He was preceded in death by his grandparents Joseph Herman and Livy Ann Bowles, Doyle and Ruby Benfield.

He was a lifelong St. Mary's County, MD resident and graduated from Chopticon High School. Steven was a brick mason for 15 years and enjoyed riding motorcycles, fishing, crabbing, boating, and spending time with his kids.

The family will receive friends on March 17, 2016 from 5:00 PM - 8:00 PM in the Mattingley-Gardiner Funeral Home, Leonardtown, MD. A Funeral Service will be held on Friday, March 18, 2016 at 11:00 AM in the Funeral Home Chapel with Rev. Ann Strickler officiating. Interment will follow in Queen of Peace Catholic Cemetery, Helen, MD. Pallbearers will be: Mike Buckler, Don Beaver, Mark Weiler, Roger Benfield, Jeff Benfield, and Joe Bowles. Arrangements provided by Mattingley-Gardiner Funeral Home.