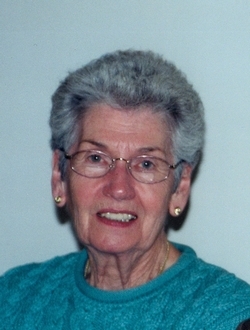 Gloria Mae Schnebelen, 91, passed away March 13, 2016 at Asbury Solomons. She was born June 5, 1924 in Washington, D.C.to Wade C. and Evelyn M. (Clark) Vogts. Gloria was born and raised in D.C.

She married Arthur A. Schnebelen, Jr. on August 11, 1942 and they made their home in D.C. and various places in the United States and overseas due to her husband's military commitment. Gloria and Arthur moved to Dunkirk in 1987 and eventually retired to Asbury Solomons in 2006.

She was primarily a homemaker and was also employed as a bank teller with BB&T Bank in Largo. Gloria was a devoted wife and mother to her husband and her children. In her leisure time Gloria enjoyed square dancing, traveling, painting and sewing.

Gloria was preceded in death by her husband Arthur A. Schnebelen, Jr. in 2007. She is survived by her children: Pat Sethne and her husband Lance of Wild Rose, WI, Wade Schnebelen and his wife Julie of San Antonio, TX and Mary Hampton and her husband Michael of Chesapeake Beach. She is also survived by grandchildren: Lana, Darin, John, Katie and Kristi, as well as 4 great grandchildren and 3 great-great grandchildren.

Arrangements provided by Rausch Funeral Home.