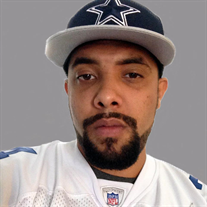 Patrick Ryan Williams, 27, of California, Maryland passed away on Saturday, March 12, 2016. He was born in Cheverly, Maryland on March 3, 1989 to Sharon Jameson-Williams and Clarence Williams, Sr.

Patrick was an avid Dallas Cowboys fan with a heart of gold. His family was the most important thing to him. His nieces and nephews were his everything, he would drop everything to help take care of his "Little Ninjas." Patrick worked at Miller & Long as a warehouse manager. He was known as the "Selfie King" and was a lovable, genuine guy.

Patrick is survived by his parents; brothers Benny Bush, Jr., Clarence Williams, Jr., Justin Williams, and Terrance Savoy; sisters Star La Williams, LaSandra Williams, and Mimi Williams; 8 nieces; 12 nephews; and many more friends and family who cherish his memory. He is preceded in death by "Nana" Barbara Jameson and "Pop Pop" James Jameson and his nephew Ashton Dillinger.

In lieu of flowers, donations may be made to the Mechanicsville Volunteer Fire Department, P.O. Box 15, Mechanicsville, Maryland 20659. The family would like to extend special thanks to the squad for all of their life saving efforts. The family is eternally grateful for their service. Arrangements provided by Lee Funeral Home.