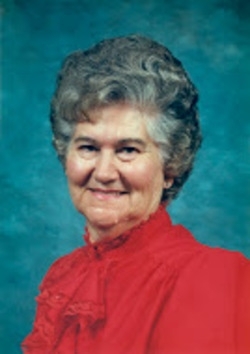 Eleanora Pilkerton Buckler Wood, 95, of Mechanicsville, MD died on March 10, 2016 at St. Mary's Nursing Center in Leonardtown, MD. Born March 27, 1920 in Trent Hall, MD to the late Robert Alexander Pilkerton and Eleanora Pilkerton.

Eleanora loved dancing and singing. She was a singer with the Senior Vibes for 25 years. She enjoyed playing cards with family and friends, watching the Baltimore Orioles, volunteered at the Office on Aging, and delivered meals to senior citizens with "Meals on Wheels" after raising 15 biological children in addition to a niece and nephew.

In addition to her parents, Eleanora was predeceased by her husbands, William Jennings Bryan Buckler and LeRoy Wood and a special friend, Joseph (Papa Joe) Lloyd Sr. and her sons William Bryan Buckler Sr. and Robert Vernon Buckler.

Eleanora is survived by her children, Loretta Alvey (Richard), Ronald Buckler Sr. (Pearl), Laffy Buckler (Nasra), David Buckler (Sissy), Minor Buckler (Rita), Wayne Buckler (Tammy), Brenda Tucker (Douglas), Glenn Buckler (Karen), Mark Buckler (Wanda), Myron Buckler, Sheila Long (Jennings), Kevin Buckler (Jackie), Debbie Noble (Kenny), her niece Betty Weddle (Carl) and nephew Jimmy Buckler (Eleanor), along with her daughters-in-law Tinka and Sandra. She is also survived by 42 grandchildren, 77 great-grandchildren and 17 great-great-grandchildren.

Family will receive friends for Eleanora's visitation on Wednesday, March 16, 2016 from 3p.m. to 5p.m and 7p.m. to 9p.m. with prayers recited at 7 p.m. at Brinsfield-Echols Funeral Home, P.A., 30195 Three Notch Road, Charlotte Hall, MD 20622. A Mass of Christian Burial will be on Thursday, March 17, 2016 at 11:00 a.m. at Immaculate Conception Church, 28297 Old Village Road, Mechanicsville, MD 20659 with Father Ray Schmidt officiating and her very own deacon, Deacon Joseph Lloyd Jr. Interment will follow at Mt. Zion United Methodist Church Cemetery, Mt Zion Church Road, Mechanicsville, MD 20659.

Pallbearers will be grandsons: Jeff Buckler, Billy Alvey Sr., Joey Buckler, DJ Buckler, Brian Buckler, Jason Buckler, Bailey Buckler and Randy Noble. Memorial Donations may be made to: St. Mary's Nursing Center, 21585 Peabody Street, Leonardtown, MD 20650. Arrangements provided by Brinsfield-Echols Funeral Home.