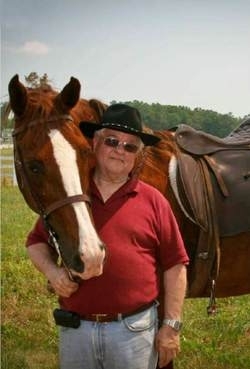 Our caring father and dear friend, Thomas Daniel Orr of Great Mills, MD passed away suddenly at the age of 69 on Tuesday, March 8, 2016. His legacy was one of love, loyalty and laughter. Dan was born on October 15, 1946 in Los Angeles County, CA to Thomas L. Orr and Betty E. Herrin. He and his younger sister were raised in Compton, CA.

Dan loved adventure and had a vivacity for life. During his teen years, he enjoyed spending time at his favorite surfing spot on Huntington Beach and hitchhiking around the area with his friends. After graduating from Dominguez High School with the class of 1965, he was proud to serve in the United States Air Force as a member of the Security Police Squad (SPS). Dan was stationed around the globe and retired after 20 years of service. He continued his career as a computer security analyst with Booz Allen Hamilton, retiring at age 67.

Dan was a cowboy at heart. He loved his horses and made it a priority to go on frequent trail rides with his Tennessee Walker, Dixie. He had a passion for technology and gadgets, running, photography, snorkeling, scuba diving, walking his dogs, doting on his grandchildren and making friends out of strangers. He was a fantastic conversationalist, an even better listener and was most excited when surrounded by his family.

Dan also valued his relationship with God and his membership in Church of Jesus Christ of Latter-day Saints. He served in many leadership positions and looked forward to fellowshipping with the missionaries each week. He believed that the basic necessities of life were family, God and a computer.

Dan is survived by his beloved wife and eternal companion, Jacqueline L. Orr of Great Mills, MD; his children, Terah and William Pulliam of Lexington Park, MD, Betty King of Leonardtown, MD, Brian and Tina Orr of Temecula, CA, Melissa and Ashton Robinson of Yorktown, VA, Rebecca and Logan Hobley of Layton, UT, and Melanie Proffer of Great Mills, MD; his sister Judy Young of Chico, CA; his previous spouse, Marilyn Watson of Lenoir, NC; and many nieces, nephews and cousins. He was so proud of his 16 grandchildren and 6 great-grandchildren.

Family will receive friends for Dan's life celebration on Tuesday, March 15, 2016 from 10-11:15 a.m. at the Church of Jesus Christ of Latter-day Saints, 22747 Old Rolling Rd, California, MD, with a Funeral Service at 11:15 a.m. Interment will follow at 1:00 p.m. at Charles Memorial Gardens in Leonardtown, MD. Arrangements by the Brinsfield Funeral Home, P.A.