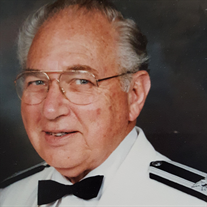 Col. Robert "Bob" A. Smoak, USAF, Retired of Solomons, MD, formerly of Camp Springs, MD, passed away on Wednesday, March 9, 2016, at the age of 91. Bob was born in Tampa, FL on September 29, 1924 to Mary (Harp) and Robert M. Smoak.

At the age of 18, he entered the Army Air Corps (which later became the U. S. Air Force) as a private. Upon his retirement from the Air Force 29 years later, he retired a full Colonel. His military career spanned many locations and positions. It began with WWII, then on to China, Burma and India. He also served in Japan, Thailand, Germany and Viet Nam. He held the position of Assistant Provost Marshall in Shanghi and Provost Marshall in Tokyo, Japan. Upon returning to the United States, he became Provost Marshall for Air Force Command in the Pentagon.

There were many highlights during his career. Some that really stand out were the writing of the AF Manual, section 25-4 and the development of the security procedures for Atomic and Nuclear missile sites in the US. He also commanded the Armed Forces Police Department from 1967 to 1971. He coordinated with the D. C. Metropolitan Police to gain control of the riots in Washington, DC after Martin Luther King's assassination. He also played a big part in the planning and implementation of President Richard Nixon's Inauguration, a joint venture that he commanded all stages of. More information on Col. Smoak's military career can be found at the Air Force Museum in Texas.

After his military career, Bob went to work for the Federal Government at the Department of the Interior as Chief of Police. This position included the Park Police, Fish and Wildlife enforcement and the Bureau of Indian Affairs, not only in the USA, but all of the US territories as well. At that time, he had 6500 personnel under his command. He held this position from 1971 to 1989.

Bob was a proud member of the Masonic Lodge and ranked as Masonic Templer, Scottish/York for 65 years.

He was the beloved husband of Betty Smoak and the late Jewel Smoak. Bob was the devoted father of Brenda Kaye Smoak and Cynthia Smoak Jester and husband Bobby. He was the step-father of Wanda Osburn and her husband Joe, Nancy Long and her husband Tony, Linda Bejarano, and Jerry Rizer and his wife Meda. He is also survived by son-in-law Mitch Fanning, numerous grandchildren, great-grandchildren and other family members.

Interment at Arlington National Cemetery will take place at a later date. You may contact his daughter, Cynthia Smoak Jester for more information on his interment service by emailing her at cynthiajester(at)comcast.net. Memorial contributions may be made in Bob's memory to the Fisher House Foundation, Inc., 111 Rockville Pike, Suite 420, Rockville, MD 20850 or on line at www.fisherhouse.org. Arrangements provided by Lee Funeral Home.