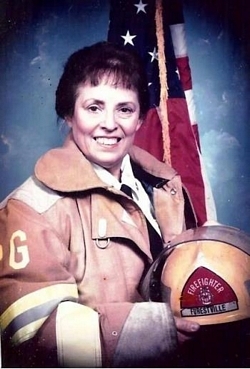 Helen A. Kulle, 76, passed away March 8, 2016 at Calvert Memorial Hospital. Helen was born January 7, 1940 in Washington, D.C. to Maynard and Gladys (Warden) Donn, and raised in Capitol Heights, MD.

She was a graduate of Suitland High School and worked as a bookkeeper and crossing guard after high school. She was later employed as a police officer at Reagan National Airport for over 30 years, and retired from Reagan National as a Background Investigator. Helen was a volunteer firefighter and EMT at Forestville Volunteer Fire Department where she was a lifetime member, and had served as President for several years.

She moved to Chesapeake Beach in 1994, and had been a resident of Calvert County Nursing Center for the past two years. In her leisure time Helen enjoyed carving birds, painting and crafts.

She was preceded in death by her parents and by a son Mark A. Kulle. She is survived by three children, Albert Michael Kulle of West Virginia, Matthew Anthony Kulle and wife Linda of Greenbelt, Ann Helms and husband Douglas of Owings. She is also survived by grandchildren Brian, Steven, Shane, and Michael Kulle, and Marissa and Hunter Helms, and by a sister Thelma McConkey and husband Ronald of La Plata.

Arrangements provided by Rausch Funeral Home.