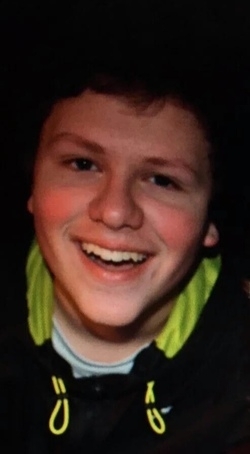 Brian Daniel Pilkerton, 18, of Mechanicsville, MD died on Sunday, March 6, 2016 at Prince Georges Hospital Center. Born December 1, 1997 in Clinton, MD he was the son of Daniel Brian Pilkerton and Kimberly Ann Herath Pilkerton.

Brian loved music, basketball, going to the gym, playing video games with his brother, late night talks with his sisters, harassing his siblings, spending time with his girlfriend Jill, and hanging with his friends. Oh, and shoes. He really liked his shoes! He also really enjoyed the freedom of driving around in his Acura!

Brian is survived by his father, Daniel Brian Pilkerton, mother, Kimberly Ann Herath Pilkerton; sisters, Amber Paige, Kristin Faith and brother, Joseph Lange, all of Mechanicsville; his paternal great grandmothers Agnes Rosalie Pilkerton and Irene Lange, paternal grandparents Paul Wayne Pilkerton and Susan Marie Pilkerton, maternal grandfather Thomas John Herath Jr. and great aunt Ann McCormick. Brian is also survived by aunts and uncles, Ronnie "Rocky" and Mary Lange, Patty and Joe Curtis, Steve and Jane Pilkerton, Gary and Heather Pilkerton, Robert and Kirsten Pilkerton, Steve and Lana Martin, Mike and Dana Martin and Rick and Judy Martin. He is also survived by many other loving cousins, extended family members and friends.

Family will receive friends on Saturday, March 12, 2016 from 10:00 AM-12:00PM at Trinity Baptist Church, 2671 Mattawoman-Beantown Rd, Waldorf, MD 20601. A funeral service will be held on Saturday, March 12, 2016 at 12:00PM at Trinity Baptist Church with Pastor Robert Pilkerton officiating. Internment will immediately follow at Trinity Memorial Gardens, 3221 Mattawoman-Beantown Rd, Waldorf, MD.

Pallbearers will be Joseph Pilkerton, Cole Drinkard, David Gray, Rob Lewis, Dylan Cimini, and Dakota Donnells. In lieu of flowers, donations can be made to the family or online at http://gofundme.com/c7ta9z4s. Arrangements provided by Brinsfield Echols Funeral Home.