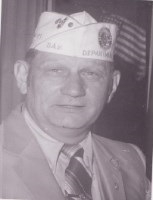 Charles Franklin "Chuck" Myers, 78, of Lexington Park, MD passed away on March 3, 2016 in Leonardtown, MD from his service connected disability. Born November 9, 1937 in Baltimore, MD. He was the son of the late Ella Mae Jackson Myers and Walter Melvin Myers and Wilber Ralph and Elizabeth Teresa Byrne Machen.

Chuck was the loving husband of Wilma Elizabeth Machen Myers whom he married in St. Luke's Catholic Church, Sparrows Point, MD.

In addition to his wife he is survived by his children; Betsy Myers of Lexington Park, MD, Charlie Myers of Leonardtown, MD, Tom and Teri Lackner of St. Mary's, GA, and Michael and Lisa Myers of Quinton, VA, siblings; John Leroy Myers of Tucson, AZ, Arthur Myers of Baltimore, MD, brother-in-law Francis "Bunk" Machen and wife Bonnie of Ocean Pines, MD, grandchildren; Erin and Tim Catlett of St. Mary's, GA, Sean and Alyssa Myers of Ellicott City, MD, Stacy & Brian Beeson of Valley Lee, MD, Nichole and David Rendon of Tucson, AZ, Great-grandchildren; Jamie Catlett, Temperance and Thomas Rendon and Avery Beeson, also survived by many loving nieces and nephews. In addition to his parents Chuck was preceded in death by his sister, Marlene Aason.

Mr. Myers served in the U.S. Navy from October 3, 1954 to 1971 retiring after 17 1/2 years of service, he then went on to work for the U.S. Navy Civil Service for 21 years retiring on November 30, 1992. Chuck was a 47 year member of the Disabled American Veterans Chapter 8 and 26(Chapter Commander 1982-1983), State of Maryland Commander 1982-1983 the American Legion 255, Disabled American Veterans Auxiliary, instrumental in forming DAVA unit 26. He was one of the first Maryland State Veterans Home Commissioners at Charlotte Hall, MD.

The family will receive friends on Wednesday, March 9, 2016 from 5:00PM to 8:00PM with Disabled American Veterans prayers recited at 7:00PM in the Mattingley-Gardiner Funeral Home, Leonardtown, MD. A Funeral Service will be held on Thursday, March 10, 2016 at 12:30PM in the Funeral Home Chapel. Interment will follow at 2:30PM in the Maryland Veterans Cemetery, Cheltenham, MD.

Pallbearers will be; Sean Myers, Brian Beeson, Scott McArdle, Stephen Machen, Eric McArdle and Kenny Wasson. Memorial contributions may be made to St. Mary's DAV/DAVA Chapter & Unit 26 C/O Robert Boles, 20238 Hermitage La., Leonardtown, MD 20650. Arrangements provided byMattingley-Gardiner Funeral Home.