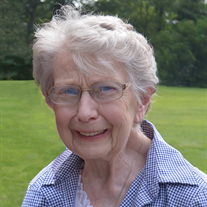 Mary Marcella Weimer of La Plata, Maryland died on Monday, March 07, 2016 at the Charles County Hospice House in Waldorf. She was 83 years old. Born on March 8, 1932 in Greenville Township, Pennsylvania, she was daughter of the late Rosa Flora and the late George Clarence Weimer.

She worked as a Certified Medical Assistant at the Garfield Memorial Hospital as well several physicians practice. She was a member of the American Association of Medical Assistants. Her passion included color photography, hand-quilting that she won numerous awards with and her two cats, Missy and Muffy.

In addition to her parents, she was preceded in death by her brother Major Bernard L. Weimer and her brother-in-law Joseph V. Stakem. She is survived by her sister Beulah R. Stakem; her sister-in-law Virginia L. Weimer; also survived by four nieces, two nephews, numerous great nieces and nephews.

A gathering will be held on Friday, March 11, 2016 from 10AM until time for Mass to begin at 11AM at the Mount Carmel Monastery, 5678 Mount Carmel La Plata, MD 20646 with Monsignor James V. Lockman officiating. Interment will be held on Saturday, March 12, 2016 at the St. Ann's Cemetery in Avilton, MD. In lieu of flowers memorial contributions may be made in Mary Weimer's name to the Sisters of Carmel of Port Tobacco 5678 Mount Carmel Road La Plata, MD 20646-3625. Arrangements provided by Raymond Funeral Service.