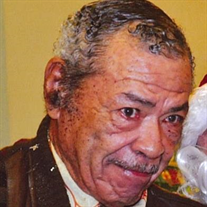 Richard "Jerome" Watson Jr., 83, of La Plata, MD died March 2, 2016 at the University of Maryland Charles Regional Medical Center in La Plata, MD.

Jerome was a truck driver, transporting seafood to many of the local restaurants for many years. He was a member of Holy Ghost Catholic Church. He enjoyed baseball when he was young. Besides his truck driving, he was known as a waterman, "crabbing, fishing, oystering." Also, farming and was best known as a good joke teller.

He was the son of Richard Jerome Watson, Sr. and Mary Elizabeth Hicks Watson. He is also predeceased by his son, Jeffrey Watson.

He is survived by his wife of 63 years, Jane Briscoe Watson. He is also survived by his sons, Don, Fabian, Arnold, and Tyrone; his daughters, Melissa Hilton, Lillian Watson, Dorinda Warren, Sheryl Watson, Deborah Watson, Cindy Simmons, and Adrienne Watson; his brothers, Walback, Andrew, and Victor; and his sisters, Viola Bush, Ann Watson, and Dorothy Watson.

Friends received on Saturday, March 12, 2016 from 10AM until time of Mass of Christian Burial at 11AM at Holy Ghost Catholic Church, 15848 Rock Point Road, Newburg, MD 20664. Arrangements by Raymond Funeral Service.