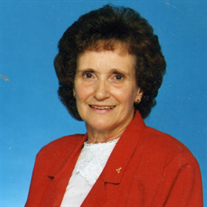 Donna Jean Heffron, of Mechanicsville, MD passed on March 1, 2016 at the age of 84. She was born in Illinois, the daughter of the late Goldie Mae and Richard Morris Whyers.

She met and married Robert Matthew Heffron on 30th of September 1949, in Washington D.C. Together they were married for 44 years, before his death in 2006.

Donna Jean was a loving wife, mother and grandmother. When her children were young, you could often find Donna Jean in the baseball field behind their home playing softball with the kids. Her daughter Lerinda recalls that "She could hit that ball for any kid who want to run after it!" She was an avid Teddy Bear Collector, her passion inspired by her daughter Robin Sue. Together they collected bears for over 20 years. Her son John recalls that she had "bear everything: sheets, cups, whatever had bears on it, she had it and loved it!"

Donna worked outside of the home, her family recalling her jobs at the Bell Telephone Company, Frito Lay and in the Francis Scott Key Jr. High School Cafeteria. Her son Mark remembers his Mom as a person who devoted her time to others, often taking family and friends to their appointments. Donna Jean had a zest for life and was an avid world traveler, visiting Holland, Germany, Austria and Belgium to name a few. In addition, she was an avid gardener and enjoyed fishing.

Beloved wife of the late Robert Matthew Heffron; loving mother of Lerinda Jo Heffron of Lexington Park, MD, Robin Sue Schlich (Tom) of Colleyville, TX, R. Mark Heffron (Linda) of Mechanicsville, MD and John B. Heffron of Hurst, TX; devoted grandmother of Adele Hare, Sean Hare, Kathryn Schlich, Miguel Riveria, Melissa Riveria Farrell, Anthony Riveria, Robert Heffron, Christina Heffron, Kess Bakker, and Ica Bakker. She is also survived by 17 great-grandchildren. In addition to her husband, she was predeceased by her only brother, William Whyers.

Arrangements provided by Lee Funeral Home.