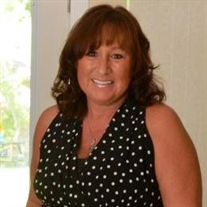 Sabra Lynn Pressman, 51, of Waldorf, Maryland passed away on March 2, 2016 at her home surrounded by and cared for by her family. Born in Miami and raised in Okeechobee, Florida.

Her passion was among many things; her love of her husband, Eric; her kids and close family and friends; horses and her many animals, most of which were rescues; her job of 16 years at the Bureau of Engraving, Department of Treasury. Her favorite hobby was traveling, especially to the beach.

Sabra is survived by her parents Barbara Mattox of Tampa, FL and Charles Godwin of Port St Lucie, FL; her husband of 24 years Eric Pressman; her daughter Shaina Maslonka (Joe) and Coltan Holmes Sr (Jackie) of Fort Pierce, FL; her five grandchildren; her brother Andy Godwin (Lynn) of Okeechobee, FL.

As for Sabra's wishes, there will be no services at this time. Arrangements provided by Raymond Funeral Service.