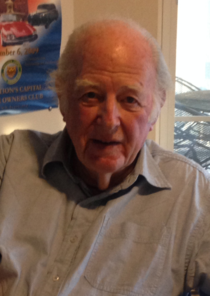 John Austin Meering, 87 of Port Tobacco, MD (formerly of Fort Washington, MD) passed away on March 2, 2016 at the Hospice House in Waldorf, MD.

John was born on March 8, 1928 in Marylebone, London, the eldest of four children, to the late Harry and Mary Meering. He is also predeceased by his loving wife, Joyce; sisters, Joan Clark, Sheila Audrey and Jennifer Ann. John is survived by his son, John Austin Burke Meering; niece, Sarah; nephew, Paul, two grandchildren; two great-grandchildren.

John attended Gravesend Sea School and Carshalton West Central and attended the Outward Bound Sea School. He was also a Merchant Marine. John was employed by Pepco as an Electrical Designer. He was of Episcopalian faith the Church of England. John was also a charter member of the NJOC (National Jaguar Owners Club) and the MG Club.

John was a sailor, collector of stamps, coins, British cars and classic car magazines. He also loved model trains, planes and cars and was avid about his crossword puzzles. In his spare time, John enjoyed gardening, listening to Big Band, Classical and Country music as well as camping and visiting racetracks to watch Vintage Racing. He also liked to cook for his family.

The family will receive friends on Friday, March 4, 2016 from 5:00 to 8:00 PM at the Arehart-Echols Funeral Home, 211 St. Mary's Ave., La Plata, MD; Funeral Service will be held on Saturday, March 5, 2016 11 AM at the Arehart-Echols Funeral Home. Interment will be at a later date. Arrangements provided by Arehart-Echols Funeral Home.