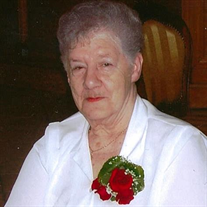 Ruth C. Ling of Great Mills, Maryland died on February 26, 2016 at the Genesis Health Care Center in La Plata. She was 84 years old. Born on August 16, 1931 in Washington, DC, she was the daughter of the late Midian and the late Ruth Amelia Joseph.

Mrs. Ling was a child care provider. She was a life member of the V.F.W. Ladies Auxiliary at Post 1800 (formerly in Indian Head) and of the American Legion Ladies Auxiliary in La Plata. She enjoyed watching television, raising parakeets and collecting bells of all types.

In addition to her parents, she was preceded in death by her daughter-in-law Jocelyn and her brothers Anthony, Raymond, William and Paul Joseph.

She is survived by her sons William C. Foster, Thomas J. Foster and his wife Caroline; her siblings Louise Varelli, Mary Jenkins, Rose Antico, Margie Pazdernick and Robert Joseph; her five grandchildren Rudy Hess, Cynthia Hess, Amanda, T. J. and Heather Foster; she is also survived by seven great grandchildren, numerous nieces, nephews, other relatives and friends.

A memorial service will be held on Saturday, March 5, 2016 beginning at 4PM at the Victory Chapel, 16401 Manning Road, West Accokeek, MD 20607. Interment will be private. In lieu of flowers, memorial contributions may be made to VFW National Home for Children, 3573 S. Waverly Road. Eaton Rapids, MI 48827. Arrangements provided by Raymond Funeral Service.