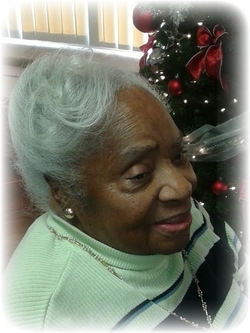 Ida Mae Savage, 86, of Leonardtown, MD passed away on February 28, 2016 at Medstar Georgetown University Hospital in Washington, D.C. She was born on November 3, 1929 in Thomasville, GA to the late Lucius Allen and Geneva Folsom. Ida was an only child raised with cousins James Hadley Jr.(deceased) and Samuel McCray (deceased).

Her mother, like others, migrated to Florida for employment. Although separated from her mother, she often talked about periodic visits to Florida. The phrase, "it takes a village to raise a child" obviously applies in her case. While living with her grandmother, I can recall a story she told about her first smoking experience. She took one of her grandmother's cigars and went under the porch of the house with the old dog. She got so sick, she was unable to answer her Grandmother when she called but the old dog told. She said that she got the worst whooping of her life.

In her early teens, Ida and her mother relocated to New Jersey to be with other family members. Ida attended South Side High School located in Newark, New Jersey. In 1947, Ida gave birth to her son Samuel Allen (deceased) and in 1950, married her beloved husband, Harry Savage. They raised their children, Samuel and Carolyn as well as nephew Sylvester Joyner from age 5 to age 12.

Together, Ida and Harry celebrated over 29 years of marriage before his passing in 1979. In 1980, Ida met Johnnie Simmons (deceased) who became her lifelong companion for the next 25 years. Ida became the matriarch of her family helping to raise her grandchildren. Ida worked several jobs during her lifetime but retired from the Economy Color Card Company as a bookbinder.

She had a rebellious spirit but a giving heart. She would donate $5 to every charity that contacted her even though she didn't have a lot of money. She enjoyed telling jokes, getting all dolled up, playing Bingo and going on field trips. Her smile could light up a room.

Ida is survived by her daughter, Carolyn Rice (Raymond) of Lexington Park, MD, her grandchildren: Valencia Phillips, Tahisha Witter, Jamilla LaSure, Zekeya LaSure, Ahmad and Malika Rice, Sister-in-law Helena Joyner ,14 Great-children, one Great-great grandson, and a host of nieces and nephews.

Family will receive friends on Saturday, March 5, 2016 from 9:00 to 10:30 a.m., with a Funeral Service celebrated at 10:30 a.m., at Brinsfield Funeral Home, P.A., 22955 Hollywood Road, Leonardtown, MD 20650. Interment will follow at Charles Memorial Gardens in Leonardtown, MD. Arrangements by the Brinsfield Funeral Home, P.A., Leonardtown, MD.