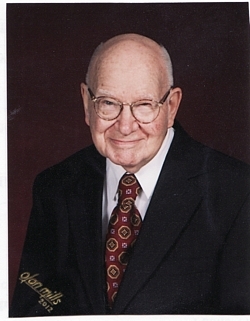 Charles Anthony Daniels, 95, of Clements, MD died Feb. 27, 2016 at St. Mary's Nursing Center after a brief illness.

He was born Casimir Dangolovich on Feb. 16, 1921 the second child of Casimir and Gertrude Diedrich Dangolovich in Shamokin, PA. In his youth, Charles was known as a talented baseball player and for being the fastest runner on the team who had a record for stealing bases.

Charles graduated from St. Edward's High School in Shamokin. That fall he joined the Christian Brothers and he became Brother Francis Peter. He received a bachelor's degree in education from LaSalle College and earned master's degrees in French (Laval University, Canada), Religion (LaSalle College) and Mathematics (University of Arkansas). Charles taught in Catholic schools in Philadelphia, Quebec, and Baltimore for 27 years.

In 1971, Charles moved to St. Mary's County and joined the faculty at Chopticon High School in the foreign language department. During his career, he taught French, English, Spanish, German, Latin and Mathematics. Charles was advisor to the CHS French Club and coordinated French educational trips to Quebec, Canada.

Charles recalled, with pleasure, his association with principals, Julius Levay and Dwight Chakales, and with his fellow language instructor, Karl Pence. He retired in 1983 and became a member of the St. Mary's County Public Schools Retirees Association. Charles joined St. Francis Xavier Parish (Newtowne) in 1971 and became a Life Member of The Knights of Columbus Missionary Council #10957.

In 1975, Charles married Dorothy Young who preceded him in death. Survivors include his brother, William (Helga) and many nieces and nephews. He was preceded in death by his parents, his sister, Gertrude Weiser and brother, Vincent Dangolovich.

Charles will be missed by his friends, Virginia Mae Pierce and the Pierce and Anderson families who included Charles in their holiday family gatherings. He had many friends in St. Mary's County and will be remembered for his humor, intelligence, generosity and kindness. He was a "gentleman's gentleman."

The family will receive friends on Wednesday, March 2, 2016 from 5:00 PM - 8:00 PM with prayers recited at 7:00 PM in the Matttingley-Gardiner Funeral Home, Leonardtown, MD. A Mass of Christian Burial will be celebrated on Thursday, March 3, 2016 at 11:00 AM in St. Francis Xavier Catholic Church, Compton, MD with Father Tom Crowley officiating. Interment will follow in Queen of Peace Catholic Cemetery, Helen, MD. Arrangements provided by Matttingley-Gardiner Funeral Home.