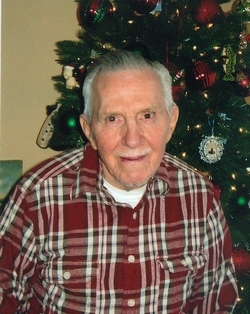 Homer Harrison Haiber, 88, of Charlotte Hall Veterans Home passed away February 27, 2016. He was born June 23, 1927 in Washington, DC to Willian Frederick and Flossie (Grainger) Haiber. Homer was proceeded in death by his parents and a brother William Haiber.

Homer was raised in Anacostia and graduated from Anacostia High School. Homer joined the Army Air Corps Reserve on August 30, 1944 and was discharged on May 22, 1945. He then entered the Army on Jan 30, 1946 and served with the Signal Service Company until being discharged May 3, 1947 as a Tec 5. He later attended Benjamin Franklin University of Washington DC where he obtained a Bachelor's Degree in Accounting. Homer was employed by the Maryland & Virginia Milk Producers Cooperative Association until retiring July 1, 1994.

For many years Homer raised and raced horses and enjoyed games of chance. He also enjoyed singing and dancing with the ladies. In later years Homer enjoyed the visits and spending time with his grandchildren and great grandchildren.

Surviving are his daughter Patricia McClees and her husband David of Owings, MD; sons Robert Haiber and his wife Debbie of Lauderdale, FL, Donald Haiber and his wife Jan of Fredericksburg, VA and Martin Haiber of Laurel, MD; six grandchildren and six great grandchildren; a sister Sylvia Bogan of Mesa, AZ and brothers James Haiber and his wife Betty of Odenton, MD and Frederick Haiber of Jessup, MD.

Arrangements provided by Rausch Funeral Home.