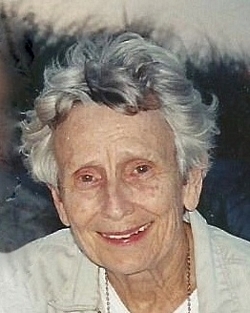 Jean Doran, 88, died peacefully on February 26, 2016 in Solomons, MD. Jean Doran was born March 11, 1927 in Long Branch, NJ to Leah and Charles B. Carrigan. She graduated from Holy Trinity High School in Washington, DC, then she attended Nursing School at Garfield Hospital in Washington, DC, graduating in 1950, and then employed as a nurse. Jean later met her future husband John at the hospital while he was employed as a facilities engineer. Jean married John T. Doran on April 14, 1951 at St. James Catholic Church in Falls Church, VA and together raised 10 children in Chevy Chase.
In the mid 70's, the family moved to Prince Frederick, MD in Calvert County.

Shortly afterwards, one of her sons' was diagnosed with Schizophrenia. After numerous attempts to find treatment for her son in hospitals and with various medications, she realized that more specialized help was needed. By the late 1970's, Jean and like-minded friends and other local families faced with similar situations, organized a group to seek better solutions for the care of the mentally ill.

Eventually, in concert with the local health department of Calvert County, and some funding provided by the state, they established a local organization called B.L.E.S.S. (Building Livelihood, Education, and Social Success) which served to educate the public, provide assistance to families in crisis and to advocate for those in need of help. In 1988, BLESS was awarded Community Program of the Year by the Maryland Mental Health Association. In 1990, an organizational change took place and the name was changed to Southern Maryland Community Network as it is still known today. In 1994, an 11,000 square foot building was constructed to provide facilities for many important services benefiting families and individuals struggling with mental health issues.

In the 90's, Jean continued to seek additional support and advocate for the mentally ill and her group joined NAMI, the National Alliance of the Mentally Ill and formed a local chapter where Jean served as Chapter president until 2005. Jean served on the Mental Health Advisory Committee for Calvert County, MD as well as the Crownsville Mental Hospital Advisory Committee. In addition to Jean's advocacy work with the mentally ill, she was an avid gardener of organic produce and other plants. She and her husband traveled extensively throughout the globe. As a young adult she wrote an original play that was performed on live radio in the 40's.

Jean is survived by her children, Catherine J. Neal, Eileen Doran-Smith, Sheila Sasselov, John Doran, Mary Murphy, Beatrice Leuzinger, Leah Doran, Nancy Doran , grandchildren Basil and Rhett Leuzinger, siblings Joyce Walsh, Nancy Brierley, and Gail Hazzard. She was preceded in death by her husband John, her sons, Charles and Daniel Doran and brother Neil Carrigan.

Family will receive friends on Thursday, March 3, 2016 from 5:00 p.m. until 8:00 p.m. at St. John Vianney Catholic Church, 105 Vianney Lane, Prince Frederick, MD 20678 where a Mass of Christian Burial will be held on Friday, March 4, 2016 at 11:00 a.m. Interment will follow in the church cemetery. In lieu of flowers, donations may be made to SMCN, 305 Prince Frederick Blvd, Prince Frederick, MD 20678. Arrangements provided by Rausch Funeral Home.