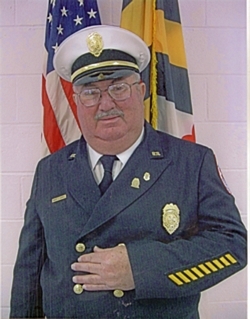 Robert Earl Russell "Puggy", 79, of Valley Lee, MD passed away on February 25, 2016 surrounded by his loving family in Callaway, MD. Born on April 14, 1936 he was the son of the late Myrtle Hewitt Russell and William Jennings Russell.

Robert is survived by his wife Mary Fowler Russell whom he married on March 6, 1981 in Valley Lee, MD. Puggy is survived by his stepson Dennis M. Evans, Jr. of St. George Island, MD, Siblings; William Francis Russell, Joseph Benjamin Russell, James Lloyd Russell, and Lucy Mae Hanson.

He graduated from Little Flower School and was a lifelong St. Mary's County, MD resident. Puggy worked for Stewart Petroleum Company as a Plant Supervisor for 47 years retiring in 1998. He worked part time for the Harry Lundeberg School, from 1999-2015, and was a Firefighter instructor. Puggy belonged to the Second District Vol. Fire Department and Rescue Squad, Southern Maryland Firemen's Association, and Piney Point Lions Club.

The family will receive friends on Tuesday, March 1, 2016 from 5:00 PM - 8:00 PM with prayer recited at 7:00 PM in the Second Dist. Vol. Fire Department Valley Lee, MD. A Mass of Christian Burial will be held on Wednesday, March 2, 2016 at 11:00 AM in St. George Catholic Church, Valley Lee, MD with Father Paul Nguyen officiating. Interment will follow in the church cemetery.

Pallbearers will be: Blair Swann, Robbie Springer, Cathy Koeger Coulder, Lyn Henderson, Jan Scrivener, Francis Bean, Joe Slade, Joe Scrivener, and Bobby Stauffer. Honorary Pallbearers will be: Members of the Second Dist. Vol. Fire Department Company 6, and Second Dist. Vol. Rescue Squad. Contributions may be made to Second Dist. Vol. Fire Dept. and Rescue Squad P.O. Box 1 Valley Lee, MD 20692, and Hospice of St. Mary's P.O. Box 625 Leonardtown, MD 20650. Arrangements provided by Mattingley-Gardiner Funeral Home.