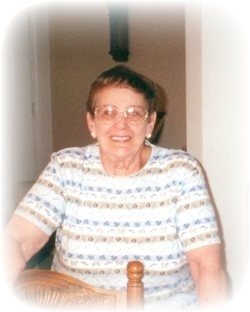 Mary E. Robinson, 98, of Leonardtown, Maryland passed away peacefully on February 20, 2016 at Mary Washington Hospital in Fredericksburg, Virginia. She was born on July 2, 1917 in Baltimore, MD to the late Raymond Insley and Helen Insley.

Mary was a devoted wife and loving mother. She was employed as a dental technician until her retirement with Fort Howard. She was outgoing and enjoyed spending time with others. One of her favorite pastimes was playing cards, and she belonged to card clubs. She was a beautiful seamstress, creating many beautiful pieces. She enjoyed taking vacations to Ocean City, MD. She was a past member of the Order of the Eastern Star and the Women's Club.

Mary is survived by her son, John Robinson (Linda K.) of Leonardtown, MD, five grandchildren, 8 great-grandchildren, and nieces, nephews and extended family. In addition to her parents, she is also preceded in death by her husband, John Marshall Robinson, Sr. and her siblings, Raymond Insley, Jr. and Peggy Hipkins.

All service will be private. Arrangements by the Brinsfield Funeral Home, P.A., Leonardtown, MD.