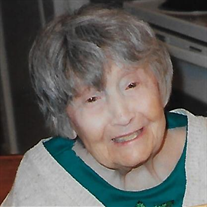 Marguerite A. "Peggy" Burek passed away on Monday, February 22, 2016, peacefully at her home surrounded by family, at the age of 97.

She was preceded in death by her husband Ambrose "AL" Burek, her older son Alan and her sister Ruth. She leaves behind her daughter Susan Schmidt and her husband Slip, her son, "Buzz" and his wife Mary Ann, four grandchildren, five great-grandchildren, and many dear friends.

Peggy was born on July 16, 1918 to Alexander and Edith Campbell, in New York City, but grew up in Long Beach, CA. She was married in 1937 to Ambrose L. Burek, USN. She was with her husband and son at Pearl Harbor on November 7, 1941. She also spent two years stationed with her family on Guantanamo Naval Base, Cuba in the early 1950's, as well as other places in this country, lastly Washington, D.C.

Peggy joined the Government as a secretary to finance her children's college education. She retired from the National Park Services, Office of Professional Publications.

She loved reading, sewing (especially for others), and participating in the Merrymakers and Sweet Adeline's Barbershop Singing Group. Music and singing were important in her life, and she sang up until two days before her death. It made her happy. Her religion and her faith in the Lord were of uppermost importance to her, and her faith was reinvigorated by two special friends in the later decades of her life. In more recent days, she would often say, "There is a time to be born and a time to die." Her eye was always on her heavenly home. So, the next time you hear the birds singing, know that is Peggy singing you a song from her new home.

Arrangements provided by Lee Funeral Home.