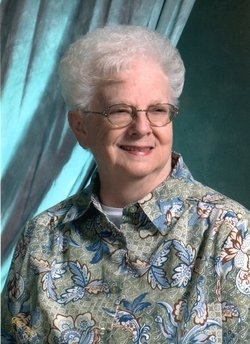 Mary Rita DeLozier, 83, of Leonardtown, MD passed away on Saturday, February 20, 2016 at Hospice House in Callaway, MD. Mary Rita was born on May 22, 1932 in Leonardtown, MD to the Late George Roger Wathen, Sr. and Margaret Belle Wathen.

Mary Rita was a homemaker for most of her life. In December 1993 she started volunteering at St. Mary's Hospital in Leonardtown. She had more than 9000 hours of volunteer hours during her time at the hospital. In 2008 she received the "Lights of St. Mary's" award.

She enjoyed her time volunteering, watching the geese in the pond, and the deer in the field. She enjoyed having people on the farm and the grandchildren around her. Her favorite pet was her Tabby Cat "Idiot".

On August 28, 1949 she married her husband William Warren "Buddy" DeLozier, Sr. They celebrated 43 years of marriage together until his passing in March 1993.

Mary Rita is survived by her children: William Warren DeLozier, Jr (Lavinia) of Italy, Roger Anthony DeLozier (Lou) of Hollywood, MD, Francis Compton DeLozier (Claire) of Leonardtown, MD., David Matthew DeLozier of Georgia and Adel Marie Carter of Hollywood, MD. 8 Grandchildren; Juanita Jowers, Heather Mattingly, Jenna Mulliken, David DeLozier, Daniel DeLozier, Charlie Carter, Jessica Carter, Miranda Carter. 10 Great Grand-children; Christopher Guilliams, Brittney Jowers, Tyler Jowers, Lauren Mattingly, Cole Mattingly, Julia Mattingly, Reece Mulliken, Hunter Carter, Breanna Carter, Scott Carter. 1 Great Great Granchild; Loralai Lehmkuhler.

Mary Rita is survived by her sisters, Ramona Hayden of Hollywood, Katherine Hayden of Leonardtown. She is predeceased by her brothers and sisters, Rebecca Profitt, Gwen Wathen, Robert Wathen, Grace Mattingly, Alice Cromwell, Roger Wathen, Jr., Francis Owens. And many nieces and nephews.

Family will receive friends for Mary Rita's Life Celebration on Wednesday, February 24, 2016 from 5:00 to 8:00 p.m. with prayers recited at 7:00 p.m., at Brinsfield Funeral Home, 22955 Hollywood Road, Leonardtown, MD 20650. A Mass of Christian Burial will be held on Thursday, February 25, 2016 at 11:00 a.m. at St Francis Xavier Catholic Church, Leonardtown, MD. Interment will follow in the Charles Memorial Cemetery, Leonardtown, MD.

In lieu of flowers, memorial contributions may be made to Hospice of St. Mary's., P.O. Box 625, Leonardtown, MD 20650 or St Francis Xavier Manor House Restoration Fund, 21370 Newtowne Neck Road, Leonardtown, MD 20650. Arrangements by the Brinsfield Funeral Home, P.A., Leonardtown, MD.