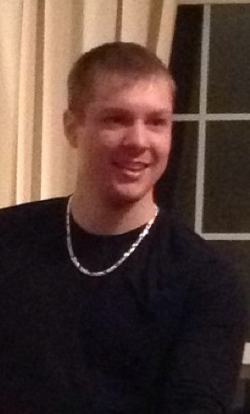 Daniel Christopher "Danny" McKnew, 25, of Owings passed away February 14, 2016. He was born November 20, 1990 in Washington, D.C. to Daniel Paul and Barbara Ann (Bromley) McKnew. He attended elementary and junior high schools in Crofton Maryland.

The family moved to Calvert County in 2004 and Daniel attended Northern High School and graduated in June 2009. After graduation, Daniel worked for a few years and was a volunteer at Dunkirk Volunteer Fire Department shortly before he enlisted in the U.S. Coast Guard in 2012. His first duty station was Freeport Texas and was there until he was selected for deployment to Kingdom of Bahrain.

Daniel left for Bahrain in January and returned to the United States this past December 2015. Daniel had decided to re-enlist in the Coast Guard for an additional 2 ½ years and was studying to become a medic in Petaluma, California. Daniel loved life and tried hard to be a good role model for his younger brother and sister, Nicholas and Samantha.

Danny is survived by his parents Daniel and Barbara McKnew; brother Nicholas A. McKnew and sister Samantha R. McKnew all of Owings; grandparents Margaret McKnew of Beltsville and Edla Bromley of Riverdale. He is also survived by numerous aunts, uncles, nieces and nephews. Danny was preceded in death by grandparents Arthur McKnew and Eugene Bromley.

Arrangements provided by Rausch Funeral Home.