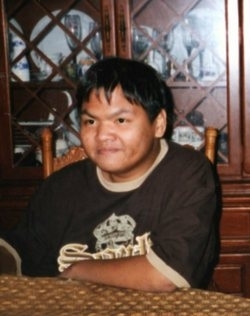 Ramil Salinas De Jesus, 30, of Lexington Park, MD died February 18, 2016 at MedStar St. Mary's Hospital in Leonardtown, MD surrounded by his loving family. Born on May 7, 1985 in the Philippines, he was the son of Betty De Jesus of Lexington Park, MD and the late Pedro L. De Jesus.

Ramil attended Great Mills High. He was an avid Dallas Cowboy fan, had a beautiful voice and enjoyed listening to music, and working on his computer and IPAD. He was an excellent cook and a grill master. His greatest love was spending time with his family.

In addition to his mother, Ramil is also survived by siblings: Teresita De Jesus Deere, Josephine Salinas Dickason, Wilfredo Salinas De Jesus, Edgardo Salinas De Jesus, Ricardo Salinas De Jesus, Noel Salinas De Jesus, Victor Salinas De Jesus, Antonio Salinas De Jesus, Julie Salinas De Jesus, and many nieces, nephews, cousins and extended family. He is preceded in death by his mother.

Family will receive friends on Friday, February 26, 2016 from 10:00 a.m. to 12:00 p.m., at Immaculate Heart of Mary Catholic Church, 22375 Three Notch Road, Lexington Park, MD 20653. A Mass of Christian Burial will be celebrated by Reverend Michal Sajnog at 12:00 p.m. Interment will be held at the later date in the Philippines. Arrangements by the Brinsfield Funeral Home, P.A., Leonardtown, MD.