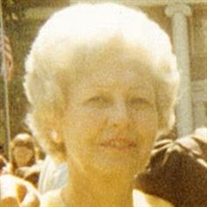 Iva Jane Denston Rucker, 91, of Port Tobacco, MD died February 18, 2016 at her residence. She was born July 13, 1924 in Pocomoke City, MD to Clarence F. & Florence Burton Denston. She was a graduate of Pocomoke High School and married Peter Parent Rucker on January 21, 1948.

Mrs. Rucker was Acting Store Manager of the A&P store during World War II. She was Manager of La Plata Garden Apartments from 1974 until 2011.

She was preceded in death by her husband, Pete; her parents; her brother Beverly (Bud) Denston; and her sisters, Gladys Mills, Virginia Hillman, and Alma Denston. She is survived by her son, Gary W. Rucker of Port Tobacco, MD and several nieces and nephews.

Friends received on Tuesday, February 23, 2016 from 6-8PM with Funeral Service at 7:30PM at Raymond Funeral Service Chapel. Interment will be at MD Veterans Cemetery in Cheltenham, MD on Wednesday February 24, 2016 at 1 pm.

Memorial contributions may be made to La Plata Volunteer Fire Department, PO Box 728, La Plata, MD 20646 or Charles County Volunteer Rescue Squad, PO Box 40, La Plata, MD 20646. Arrangements provided by Raymond Funeral Service.