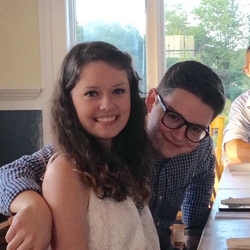 Daniel is survived by his father Kevin Amos and his wife Sharon of Stevensville, MD; mother Ingrid Leonard and her husband Jim of California, MD; sister Jessica Adkins and her husband Justin of Fairfax, VA; grandparents June Eastman of Smithsburg, MD, Donald Amos and his wife Lois of Odenton, MD and Janet Michalski and her husband Andy of Sparrows Point, MD. He is also survived by his aunt and uncle Alison and Mark Appenzellar of Smithsburg, MD as well as cousins Emily and Jordan Gibson. Daniel was preceded in death by his grandfather Gilbert Eastman.

Kayla is survived by her parents James A. and Jacqueline Cosner of Lusby; sisters Samantha and Melissa Cosner of Lusby; grandmother Barbara Jo Finch of Rose Haven and grandfather Albert Cosner of The Villages, FL. She is also survived by aunts: Kay Savary, Bobbie Meisenhelder, Patti Zollars, Janie Suss, Terri Sisk, Chrissy Harris, Jodi Jackson, Pam Bove and Kathy Schissler, as well as her uncle Eddie Finch. Kayla was preceded in death by grandparents Carole Cosner and Hon. Edward B. Finch and her uncle Stephen Finch.

Arrangements provided by Rausch Funeral Home.