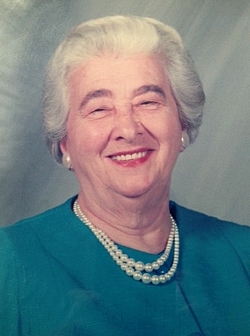 Josephine Barbagallo Drank, 92, of Haines City, Florida and McKay's Beach, Maryland died peacefully at home on February 15 surrounded by family and friends after struggling for several years with multiple health issues. "Josie" was born on July 19, 1923 in Washington, DC.

She was preceded in death by her parents, Jane and Andrew Barbagallo; sister, Jane Husband; brother-in-law, Doug Husband; and nephew, Astronaut Rick Husband. She is survived by her loving husband of 70 years, George Joseph Drank formerly of Wilkes Barre, Pa.; her two daughters, Janet Drank McCormick of Leesburg, Va. and Karen Drank Shipman of Collierville, TN; two son-in-laws; a nephew; five grandchildren; and six great grandchildren, soon to be seven, a little girl who will be named Josephine in her honor.

Josie never met a stranger, was a loving and giving person, and left her mark on whoever she met or whatever organization she was involved in throughout her life. One of her passions in life was cooking and all who sampled her many dishes will long remember the tender loving care that went into making them. She will be sorely missed not only by her family but by all the lives she touched. Josie and George made their home at McKay's Beach, Md. for many years and finally settled in Ridge Manor in Haines City, Florida.

In lieu of flowers, it was Josephine's request that donations be made to St. Jude Children's Research Hospital, American Heart Association, or National Kidney Foundation.