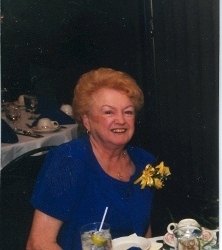 Carolyn Leverone (nee Reynolds) of the Rosehaven community of North Beach, Maryland passed away unexpectedly on Sunday, February 14, 2016. She was born in Kansas City and spent most of her early childhood in Leavenworth, Kansas with her mother Madeline Hunt, her two aunts and her grandparents.

Her mother remarried and the family moved to New York City when she was an adolescent. She attended high school in the Bronx. She always said that, once she recovered from the culture shock, New York City was a great place to be a teenager. Her stepfather, Joseph Ufheil, was transferred to Washington, DC in 1948 and the family lived in Mt. Rainier, Maryland. There she met and married LeRoy Leverone, her ever-loving husband of 65 years.

She had five children: Michael F., Mark L. (deceased), Brian H. (deceased), Theresa R., and Joseph A. She has six grandchildren: Julia and Patrick Leverone (of Michael and Susan), Zachary and Hayley Leverone (of Brian), Madeline and Steven Henderson (of Theresa and Steve).

Carolyn retired from the Prince George's County government, Department of Housing and Community Development, after 21 years of service (Feb.7, 1972-April 30, 1993). Early in her career, she achieved recognition as the first woman building inspector in Prince George's County.

She participated in the many school activities of her children, played the organ for church and later joined the choir at St. Anthony's in North Beach. She volunteered at the Chesapeake Beach Railway Museum, was an active member of the International Soroptimist Club and the Rosehaven Civic Association. An avid reader throughout her life, she could always be found with a book close at hand.

Carolyn was always kind, patient, generous, friendly and happy with everyone she knew. She will be remembered fondly.

Arrangements provided by Rausch Funeral Home.