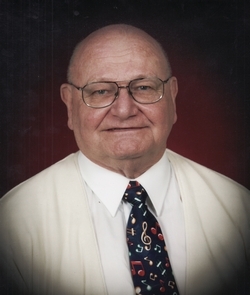 Benny Carroll Morgan, 85, of Huntersville, MD passed away on February 16, 2016 in Callaway, MD. Born on March 11, 1930 in Fairmont, WV he was the son of the late Gertrude Penland Morgan and Arch Glenn Morgan. Benny was preceded in death by his brothers, Archie Leo Morgan of West Virginia, and Harold K. Morgan of Michigan.

He graduated from Fairmont high school in 1948. Benny graduated Fairmont College in 1952 with a Bachelors in Music in and West Virginia University in 1953 with a Masters in Music. He served in the United States Army from August, 1952 to April, 1960. While serving in the United States Army his duty stations included Okinawa.

Benny moved from Worthington, WV to St. Mary's County, MD in 1958. He was a music teacher at Esperanza Middle School, Margaret Brent High School, and Chapticon High School for 30 years retiring in July, 1986, he also worked as an organist and choir director at several local churches.

The family will receive friends on Saturday, February 20, 2016 from 10:00 AM to 11:00 AM in All Faith Episcopal Church, Charlotte Hall, MD. A Funeral Service will follow at 11:00 AM with Father David MacDonald officiating. Interment will be held at a later date in Shinnston Memorial Cemetery Shinnston, WV. Pallbearers will be: Johnny Alvey, Earle Redden, Branden Alvey, and Bernard Vallandingham.

Contributions may be made to Hospice House of St. Mary's P.O. Box 625 Leonardtown, MD 20650. Arrangements provided by Mattingley-Gardiner Funeral Home.