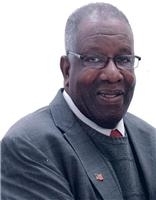 John Vincent Curtis Sr., (Vince), 84 of Leonardtown, MD, was called Home to be with the Lord on February 13, 2016 after a brief illness. Vince was the second child born on September 18, 1931 in Medley's Neck to the late John Henry Curtis Sr. and Helen Rebecca Mason Curtis. He received his education at Benjamin Banneker School.

He married the late Alice Clark and from that union she had two daughters, Linda and Gail and five sons, Vaughn, John Vincent, Jr., Tyrone, Wayne and David (deceased). In June, 1979, he met the love of his life, Joyce Berry Burnette. They married on August 2, 1985. Vince and Joyce shared 37 beautiful years together. Vince and his wife were like peas in a pod; always together and always doing something together.

In 1954, Vince was drafted and served honorably in the United States Army. Vince was a dedicated family man. He was a true workaholic but he always took time out to enjoy family and friends. His hobbies included going on the water with his boat, traveling, bowling and winning numerous tournaments. Vince worked numerous jobs to support the family; sometimes often having to travel long distances and working on the water on tug boats. He was a survivor and a provider.

Vince's work history was exemplary, as well as being a successful entrepreneur. He has worked on several farms with his family; he fished and crabbed, along with his brothers, in order to feed the family. In 1960, he bought his father a Studebaker pickup truck and started a trash service. Later, Vince started buying and renting properties as well as starting his own trash service, Trash Masher and Company, using pickup trucks, front end loader trash trucks, rear end loader trash trucks and roll off trucks. He eventually sold his trash service and roll off service to Waste Management and Southern MD Sanitation.

Then he started a dump truck service, J and J Trucking, which he eventually sold. Vince and his wife later went to work at the Beretta Gun Shop in Accokeek, MD manufacturing guns. They also started a cab service, Courtesy Cab and ran that for a number of years before retiring that business. They then devoted their time to their present business of operating school buses for the St. Mary's County Public Schools. Vince's employment took him to places such as Washington, DC, Norfolk, VA, the Naval Base at Solomon's Island, White Oak, Silver Spring, MD, and lastly, the Naval Air Station, Patuxent River, MD, where he retired in 1986 after 30 years of civil service as a Diesel Engineer.

Vince was preceded in death by his parents; son, David; brothers, Mason, John Henry, Jr. and Paul; sisters, Evelyn Curtis and Margaret Rufus. He leaves to cherish his memory his beloved wife of 37 beautiful years, Joyce; five sisters, Mary, Helen (Becky), Alice, Adele and Lillian; brother, John Calvert (Buzz); two step-daughters, Clarice Burnette and Yolanda Berry; two daughters, Gail and Linda; four sons, Vaughn, John Vincent, Jr., Tyrone and Wayne; two step-granddaughters, Sanai and Sarye Chase, "his girls", as he fondly referred to them, who he adored and who visited Vince just about every day and a host of grandchildren, great-grandchildren, an aunt, nieces, nephews and other relatives and close friends.

Family will unite with friends on Monday, February 22, 2016 for visitation at 10:30 am until Mass of Christian Burial at 11:30 am at Immaculate Heart of Mary Catholic Church, 22375 Three Notch Road, Lexington Park, MD. Interment to follow in the church cemetery. Arrangements by Briscoe-Tonic Funeral Home.