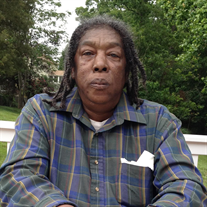 Joseph Veanny Dorsey, affectionately called Lee or Uncle Lee, at the age of 74, peacefully transitioned into eternal life with our Lord and Savior Jesus Christ, on Saturday, February 13, 2016 surrounded by family. Lee, the son of the late Mary "Vee" Dorsey and the late Joseph T. Hill, was born October 6, 1941 in Newport, Maryland. He attended the Charles County Public School system.

Lee was preceded in death by his brothers John V. Dorsey and Michael Hill; and his sisters Eva E. Thomas and Phyllis Hill.

Lee was extremely family oriented; he loved all his family members and friends. Lee was a great farmer and raised tobacco, livestock including hogs, cattle, chickens, and goats. He once had a potbelly pig named "Lady" that was like a family member. He was an excellent gardener and was best known for his kale patch. He shared food from his garden, especially the kale with his family and friends, including those in the Newburg community, Prince George's county and from as far away as the Blue Ridge Mountains in Virginia. He also loved feeding the birds, including red robins, orioles, blue jays, and hummingbirds. He enjoyed sitting on the porch listening to the birds chirp. Lee had a special bond with his 10 year old Border Collie named Billy Boy Dorsey.

Lee never met a stranger and loved initiating conversations with people, especially with his medical team. He had a heart of gold and would give his all to anyone in need. He was an avid Redskins fan. He loved watching TV and enjoyed westerns, Sanford and Son, the Andy Griffith Show, Home Alone, Heaven is for Real, and Joel Osteen just to name a few. Lee had a wonderful relationship with the Lord. He prayed and read his Bible daily and was always encouraging others and telling them about the goodness of the Lord.

Lee leaves to cherish his memory his brothers Thomas Dorsey (Dorothy), William Dorsey (Donna), Phillip Hill (Cynthia), Lloyd Bradford Hill (Tonya), and Daniel Hill; sisters Ethel Early, Agnes Brown (Freddy), and Jacqueline Dorsey; his devoted aunt Ollie Thomas, and a host of cousins, nieces, nephews, other relatives and friends.

Arrangements provided by Raymond Funeral Service.