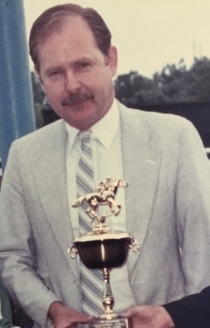 William R. Buehler (Billy), 80, passed away at his home in St. Leonard, Maryland on Wednesday, February 10th, 2016. Born on May 28th, 1935 he was the oldest of seven children.

Billy attended Drexel Institute of Technology, where he excelled in Chemical Engineering and graduated with honors in 1959. A proud member of Sigma Pi, Billy was awarded for his dedication and unceasing work for the Fraternity. He continued to transcend, in the field of Chemical Manufacturing, at Rohm and Haas Company in Philadelphia, Pennsylvania, eventually returning to St. Leonard, Maryland to open, along with his brothers, several business including Buehler's Liquors and the Cliffs Motor Inn.

Billy was an avid fisherman, reader and painter but his real passion was his horses. He began his thoroughbred bloodline by traveling to London, England to purchase his first broodmare, Cassarate, a King's Stand Stakes winner. He continued to breed, train and race for the next 50 years, his top winners included the locally famous Goose Bumps, Crusin' Dixie and Lollipop Lil. Old Bay Stud Farm bloodlines remain strong. Billy's horses are relatives of some of the greatest race horses of all times: Secretariat, Man O' War, Gio Ponti, Malibu Moon, In Excess and Alydar.

Billy was preceded in death by his beloved Mother, Bertie Buehler; Father, Francis Buehler, Sr.; Sisters, Catherine Huntzberry; Lorraine Wood; Anna Rose Hill; and brother Francis Buehler, Jr. He is survived by his sister Theresa (Allan) Barrett, his brother Patrick (Beverly) Buehler and several nieces and nephews whom he loved very much.

In lieu of flowers, the family is requesting memorial donations be made to Hospice of Calvert County or St. Leonard Volunteer Fire Department. Arrangements provided by Raymond Wood Funeral Home.