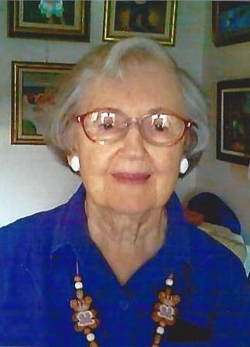 Doris Anne (Seibert) Garner, 91, of Solomons, MD passed away peacefully on February 12th at the Asbury-Solomons Retirement Community due to a series of strokes and colon cancer. She was born in on April 13, 1924 in Baltimore, MD, the 2nd of four children of Daniel Willis and Clara Seibert. She married 2nd Lt. Vernon W. Garner of Solomons on December 20, 1944. They recently celebrated 71 years of marriage. They have 4 children, 12 grandchildren, and 16 great-grandchildren.

As an Air Force wife, Doris Anne traveled extensively with Vernon who was stationed in 10 different stateside locations, plus 2 overseas assignments in Greece and Germany. After retirement, she continued to visit her kids and grandkids all over the USA.

Doris Anne was an accomplished seamstress who designed original outfits and did alterations for family, friends, and Betty's Closet (a thrift shop fund at Asbury). She gained renown as an artist, painting in oils, acrylics, watercolors, and black ink. As a member of the Calvert Artists' Guild, she regularly displayed art works at Solomons' annual PRAD festival and at the Annmarie Sculpture Garden & Art Center.

A dedicated Christian, Doris Anne taught Sunday school from the age of 13 well into her eighties. She was committed to missionary causes, volunteered for many charitable groups, and found genuine joy in helping others. Above all, she was a devoted wife, mom, grandma, and great-grandma. She instilled in each family member a love for the Lord and for others.

Doris Anne is survived by her husband Vernon, brother Richard Seibert, and a host of loving family members including the following: children: Vernanne, Wendell, Josie, and Daniel; their spouses: Wayne Alvarez, Peggy Garner, Joe Gonzales, and Tami Garner; and grandkids: Gina, Angie, Dan, Martina, Kara, Kristen, Kim, Alan, Christy, Alison, Brianna, and Caitlyn.

Family will receive friends on Friday, February 19, 2016 from 2:00 p.m. until 4:00 p.m. and 6:00 p.m. until 8:00 p.m. at the Rausch Funeral Home, 20 American Lane, Lusby, MD 20657. A Funeral Service will be held on Saturday, February 20, 2016 at 11:00 a.m. at Calvary Bible Church, 8300 Nursery Road, Lusby, MD 20657. Interment will follow in the church cemetery.

Memorial contributions may be made to Calvert Hospice, P.O. Box 838, Prince Frederick, MD 20678. Arrangements provided by Rausch Funeral Home.