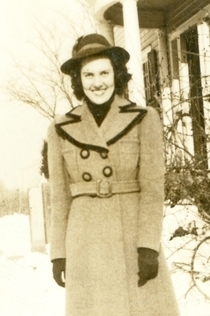 She was born Jane Ashbury Hurlburt on Friday, August 13, 1920 at her mother's family seat, "The Oaks," in Pomonkey, MD. Her father, Lloyd Hurlburt, had come to Indian Head from Michigan as a young U.S. Marine during World War I. Here, he met and fell in love with Rachael Warren, and after the war they married. Rachael and Lloyd raised Jane and her four brothers at "The Oaks." They attended St. John's Episcopal Church in Pomonkey.

Jane graduated from Lackey High School in 1937 and over the next few years, met William Chapman of La Plata. "Bill," who was 30 years old, was known as a bit of a "Dandy" but was smitten by 19 year old Jane. They married in January of 1940 at St. John's in Pomonkey. They went to live at her husband's birthplace, "Glen Albin," with Bill's widowed father, William. After William's death in 1942, they eventually moved to the old family estate, "Ellenwood," near La Plata. By now, the new family had two children, William III and Jane. There, at Ellenwood, a third child was born, David. At Ellenwood they lived with Etheldra Chapman. Upon Etheldra's death in 1951, Bill inherited a portion of Old La Plata Farm from which the Town of La Plata takes its name. Here, Jane and Bill settled for life. Their son, Peter was born here. After Bill's death in 1987, Jane's life was surrounded by her children, three of whom have homes on the farm.

Jane was very active in the community: Christ Episcopal Church and the Charles County Garden Club for 75 years. Among many other pursuits, she was an avid flower gardener and loved horseback riding. She kept a horse to this very day. His name is "Lucky," and he will miss her.

The family will receive friends on Sunday, February 14, 2016 from 6-8PM at Christ Church Port Tobacco Parish, 112 E. Charles St., La Plata, MD, where Funeral Services will be held on Monday, February 15, 2016 at 11AM. Interment to follow at the Mt. Rest Cemetery. Arrangements provided by Arehart-Echols Funeral Home. In lieu of flowers, contributions may be made to Christ Church, Port Tobacco Parish.