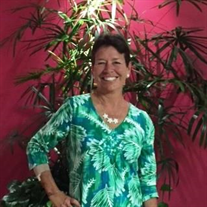 Deborah Lee Hile, age 61 of Clearwater, Florida (formerly a Maryland resident) died on February 8, 2016.

Deborah was born in Washington, DC on June 28, 1954. She graduated from Archbishop Neale High School (La Plata, MD) in 1972 and graduated with honors from Frostburg University in 1976. She also achieved her Masters of Education in Secondary Administration from Bowie State College.

For 35 years, Deborah was a dedicated educator, serving as an art teacher, vice principal and then principal for the Charles County Public School System. She imparted not only her belief that every student "could" but also inspired colleagues with creativity and a "dedication to excellence".

She was an avid artist and loved the beach and water. Her affinity for the beach and water led her to retire to Clearwater, Florida in 2011.

Deborah was preceded in death by her mother, Marlene Hile Blankley and her stepfather, Cloyd Blankley. She is survived by her daughter Kristyn Nicole Breeds and son Aaron Cloyd Breeds.

There will be a gathering of family and friends on Tuesday, February 16, 2016 from 5PM until the Memorial Service at 5:30PM at the Raymond Funeral Service Chapel, 5635 Washington Avenue, La Plata, MD 20646. Memorial contributions in Deborah's name may be sent to SOFE Horse Rescue, 3811 Hance Road, Port Republic, MD 20676. Arrangements provided by Raymond Funeral Service.